7L 3215 SMD Watch Crystal
The 7L 3215 SMD watch crystal is a seam sealed tuning fork crystal unit, and it vibrates at the frequency of 32.768KHz. Our product is a miniature crystal with the size of 3.2×1.5mm, and it fits for automatic assembly as well as reflow soldering.
On the other hand, this surface mount crystal is an eco-friendly device as there is no Pb in it, perfectly meeting the requirements of RoHS.
Application
Our 32.768KHz crystal is particularly suitable for clock circuits used in many electronic products, such as PDA, bluetooth, digital camera, multimedia player, gaming device, computer peripheral, mobile Internet device, radio controlled clock, mobile communication device, etc.
Technical Data of 7L 3215 SMD Watch Crystal
1. Frequency: 32.768KHz
2. Load capacitance: 12.5pF
3. Drive level: 1μW (max.)
4. Frequency stability: ±20ppm
5. Frequency tolerance at 25℃: ±20ppm
6. Shunt capacitance (C0): 1.2pF (standard)
7. Equivalent series resistance (ESR): 50KΩ~70KΩ
8. Operating temperature range: -20℃~+70℃, -40℃~+85℃
9. Storage temperature range: -40℃~+85℃
10. Size: 3.2×1.5mm
11. Packing quantity: 3000 pieces/reel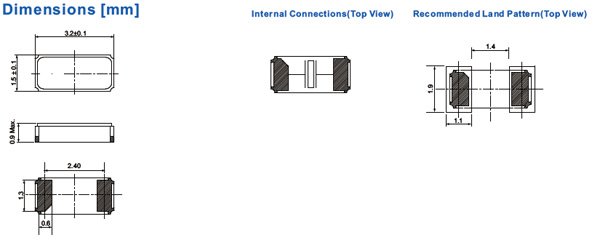 7L 3215 SMD Watch Crystal